MY HERO ACADEMIA THE AMAZING HEROES VOL. 4 EIJIRO KIRISHIMA FIGURE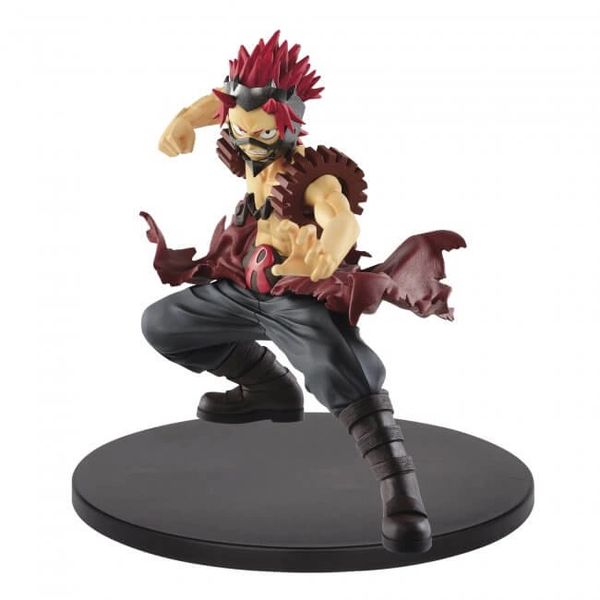 MY HERO ACADEMIA THE AMAZING HEROES VOL. 4 EIJIRO KIRISHIMA FIGURE
<!-- /* Style Definitions */ p.MsoNormal, li.MsoNormal, div.MsoNormal {mso-style-unhide:no; mso-style-qformat:yes; mso-style-parent:""; margin:0in; margin-bottom:.0001pt; mso-pagination:widow-orphan; font-size:12.0pt; font-family:Cambria; mso-ascii-font-family:Cambria; mso-ascii-theme-font:minor-latin; mso-fareast-font-family:"MS 明朝"; mso-fareast-theme-font:minor-fareast; mso-hansi-font-family:Cambria; mso-hansi-theme-font:minor-latin; mso-bidi-font-family:"Times New Roman"; mso-bidi-theme-font:minor-bidi;} p.MsoListParagraph, li.MsoListParagraph, div.MsoListParagraph {mso-style-priority:34; mso-style-unhide:no; mso-style-qformat:yes; margin-top:0in; margin-right:0in; margin-bottom:0in; margin-left:.5in; margin-bottom:.0001pt; mso-add-space:auto; mso-pagination:widow-orphan; font-size:12.0pt; font-family:Cambria; mso-ascii-font-family:Cambria; mso-ascii-theme-font:minor-latin; mso-fareast-font-family:"MS 明朝"; mso-fareast-theme-font:minor-fareast; mso-hansi-font-family:Cambria; mso-hansi-theme-font:minor-latin; mso-bidi-font-family:"Times New Roman"; mso-bidi-theme-font:minor-bidi;} p.MsoListParagraphCxSpFirst, li.MsoListParagraphCxSpFirst, div.MsoListParagraphCxSpFirst {mso-style-priority:34; mso-style-unhide:no; mso-style-qformat:yes; mso-style-type:export-only; margin-top:0in; margin-right:0in; margin-bottom:0in; margin-left:.5in; margin-bottom:.0001pt; mso-add-space:auto; mso-pagination:widow-orphan; font-size:12.0pt; font-family:Cambria; mso-ascii-font-family:Cambria; mso-ascii-theme-font:minor-latin; mso-fareast-font-family:"MS 明朝"; mso-fareast-theme-font:minor-fareast; mso-hansi-font-family:Cambria; mso-hansi-theme-font:minor-latin; mso-bidi-font-family:"Times New Roman"; mso-bidi-theme-font:minor-bidi;} p.MsoListParagraphCxSpMiddle, li.MsoListParagraphCxSpMiddle, div.MsoListParagraphCxSpMiddle {mso-style-priority:34; mso-style-unhide:no; mso-style-qformat:yes; mso-style-type:export-only; margin-top:0in; margin-right:0in; margin-bottom:0in; margin-left:.5in; margin-bottom:.0001pt; mso-add-space:auto; mso-pagination:widow-orphan; font-size:12.0pt; font-family:Cambria; mso-ascii-font-family:Cambria; mso-ascii-theme-font:minor-latin; mso-fareast-font-family:"MS 明朝"; mso-fareast-theme-font:minor-fareast; mso-hansi-font-family:Cambria; mso-hansi-theme-font:minor-latin; mso-bidi-font-family:"Times New Roman"; mso-bidi-theme-font:minor-bidi;} p.MsoListParagraphCxSpLast, li.MsoListParagraphCxSpLast, div.MsoListParagraphCxSpLast {mso-style-priority:34; mso-style-unhide:no; mso-style-qformat:yes; mso-style-type:export-only; margin-top:0in; margin-right:0in; margin-bottom:0in; margin-left:.5in; margin-bottom:.0001pt; mso-add-space:auto; mso-pagination:widow-orphan; font-size:12.0pt; font-family:Cambria; mso-ascii-font-family:Cambria; mso-ascii-theme-font:minor-latin; mso-fareast-font-family:"MS 明朝"; mso-fareast-theme-font:minor-fareast; mso-hansi-font-family:Cambria; mso-hansi-theme-font:minor-latin; mso-bidi-font-family:"Times New Roman"; mso-bidi-theme-font:minor-bidi;} .MsoChpDefault {mso-style-type:export-only; mso-default-props:yes; font-family:Cambria; mso-ascii-font-family:Cambria; mso-ascii-theme-font:minor-latin; mso-fareast-font-family:"MS 明朝"; mso-fareast-theme-font:minor-fareast; mso-hansi-font-family:Cambria; mso-hansi-theme-font:minor-latin; mso-bidi-font-family:"Times New Roman"; mso-bidi-theme-font:minor-bidi;} @page WordSection1 {size:8.5in 11.0in; margin:1.0in 1.25in 1.0in 1.25in; mso-header-margin:.5in; mso-footer-margin:.5in; mso-paper-source:0;} div.WordSection1 {page:WordSection1;} /* List Definitions */ @list l0 {mso-list-id:1941378690; mso-list-type:hybrid; mso-list-template-ids:1327167800 67698689 67698691 67698693 67698689 67698691 67698693 67698689 67698691 67698693;} @list l0:level1 {mso-level-number-format:bullet; mso-level-text:; mso-level-tab-stop:none; mso-level-number-position:left; text-indent:-.25in; font-family:Symbol;} @list l0:level2 {mso-level-number-format:bullet; mso-level-text:o; mso-level-tab-stop:none; mso-level-number-position:left; text-indent:-.25in; font-family:"Courier New"; mso-bidi-font-family:"Times New Roman";} @list l0:level3 {mso-level-number-format:bullet; mso-level-text:; mso-level-tab-stop:none; mso-level-number-position:left; text-indent:-.25in; font-family:Wingdings;} @list l0:level4 {mso-level-number-format:bullet; mso-level-text:; mso-level-tab-stop:none; mso-level-number-position:left; text-indent:-.25in; font-family:Symbol;} @list l0:level5 {mso-level-number-format:bullet; mso-level-text:o; mso-level-tab-stop:none; mso-level-number-position:left; text-indent:-.25in; font-family:"Courier New"; mso-bidi-font-family:"Times New Roman";} @list l0:level6 {mso-level-number-format:bullet; mso-level-text:; mso-level-tab-stop:none; mso-level-number-position:left; text-indent:-.25in; font-family:Wingdings;} @list l0:level7 {mso-level-number-format:bullet; mso-level-text:; mso-level-tab-stop:none; mso-level-number-position:left; text-indent:-.25in; font-family:Symbol;} @list l0:level8 {mso-level-number-format:bullet; mso-level-text:o; mso-level-tab-stop:none; mso-level-number-position:left; text-indent:-.25in; font-family:"Courier New"; mso-bidi-font-family:"Times New Roman";} @list l0:level9 {mso-level-number-format:bullet; mso-level-text:; mso-level-tab-stop:none; mso-level-number-position:left; text-indent:-.25in; font-family:Wingdings;} -->
FROM THE POPULAR ANIME MY HERO ACADEMIA, EIJIRO KIRISHIMA IS THE FOURTH HERO TO ENTER THE AMAZING HEROES LINE FROM BANPRESTO. STANDING OVER 5 INCHES TALL, EIJIRO KIRISHIMA IS SCULPTED IN AN ATTACK POSE.
·       STANDS 5.10" INCHES TALL
·       FROM MY HERO ACADEMIA ANIME
·       FOURTH VOLUME OF THE AMAZING HEROES LINE
·       SOME ASSEMBLY REQUIRED
NEW AND READY TO SHIP

ALL ITEMS SHIP FROM CALIFORNIA
Purchased items ship within the same business day if ordered by 12:30 pm PST
Monday - Friday and ship only using United States Postal Service (USPS) to deliver packages.